About us
Global leader in IT talent solutions​
Experis® is a global leader in IT professional resourcing, permanent recruitment, project solutions and managed services specialising in Business Transformation, Cloud and infrastructure, Cybersecurity, Digital Workspace and Enterprise Applications.
Experis delivers talent with a powerful combination of in-demand technical skills together with the soft skills that are critical for business success.
---
104​


Fortune 500 Clients
---
69 Million​


Delivered Hours of Professional Talent
---
5 Billion​


Global IT Brand
---
62.5K​


Permanent & Temporary Placements
About us
Global leader in workforce solutions​
Manpower® is a global leader in contingent staffing and permanent recruitment. Through our nationwide network of offices, we provide rapid access to a highly qualified and productive pool of candidates across a broad range of role types.
At Manpower® Australia focuses on creating powerful connections between organisations and the talent they need to enhance their competitiveness and unleash their workforce potential. By creating these powerful connections, we help everybody achieve more than they imagined, and power the future of work.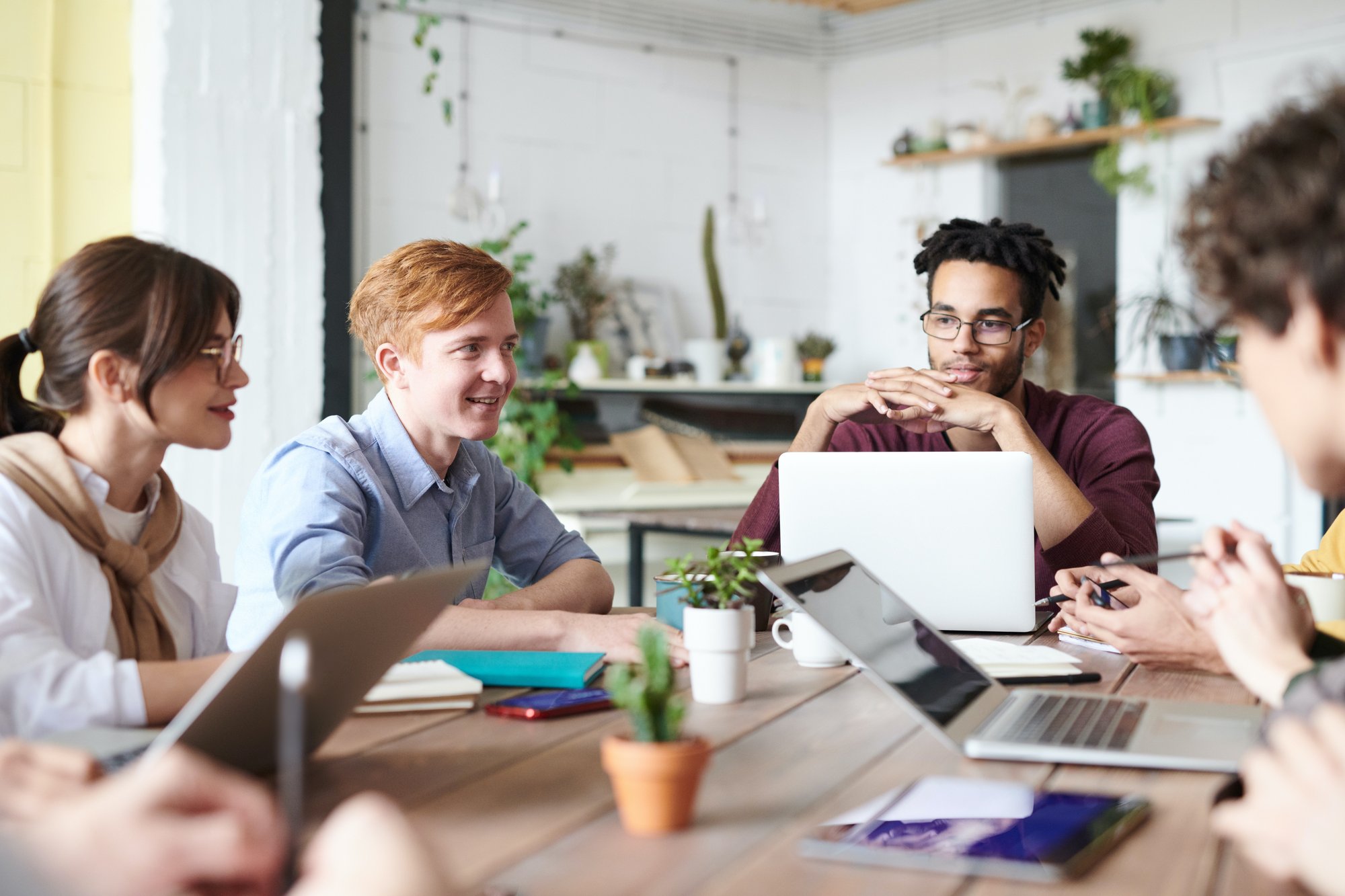 ---
210+​


Clients supported with talent pools
Services
Empowering talent to drive business success
Move your business forward. faster.
Manpower

® is the top 3 workforce solutions business globally.
With a global presence spanning 75 countries, placing 2 million professionals and serving 100K+ clients worldwide with over 600,000 associates on assignment daily, we draw from 70+ years of experience in recruiting, assessing, up-skilling, re-skilling, and qualifying candidates for work readiness and associates for on-the-job success. Our optimised multi-channel approach connects talent to organisations more efficiently and rapidly than ever, offering contingent workforce strategies and innovative talent solutions to help organisations succeed in the ever-evolving world of work.

Our experienced sourcing specialists across Australia combine our strategic advantage, knowledge, capability and networks to uncover and nurture the best talent in the market. Combined with our quality-assured best practice assessment and selection approach.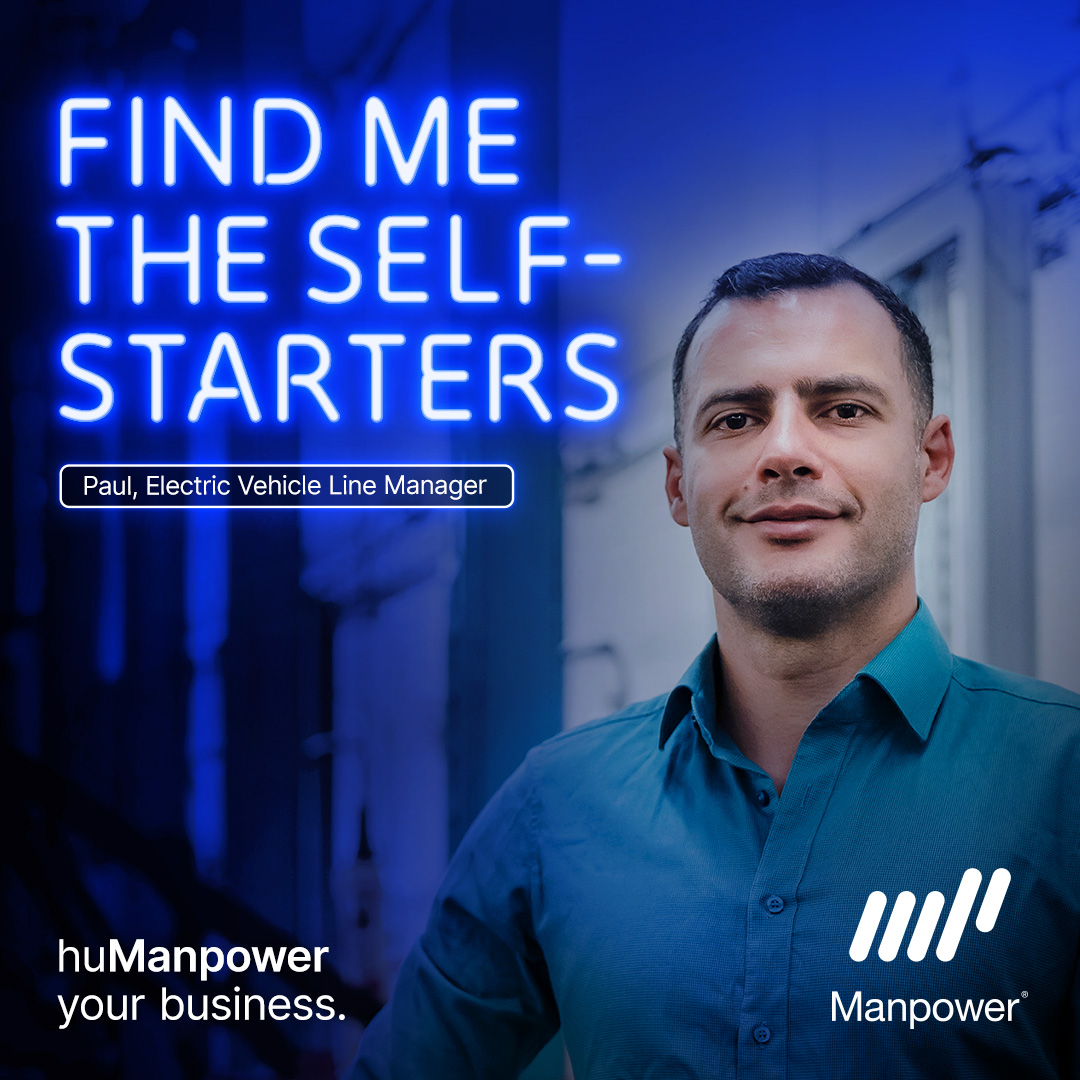 Workforce industry insights
Our research and insights empower both employers and candidates in the changing world of work.
Trend Report
The Future is Now: AI, The Metaverse & The World of Work
Exploring the Convergence of Generative AI, VR, and Metaverse: Implications for Work and Adoption.
As adoption of generative artificial intelligence (AI) and metaverse technology grows, so will their impact on the world of work. We recently asked employers and workers for their perspective.
Where do they see the greatest potential for improvement?


How do workers feel about these technologies and where do they think they could add value?
LEARN MORE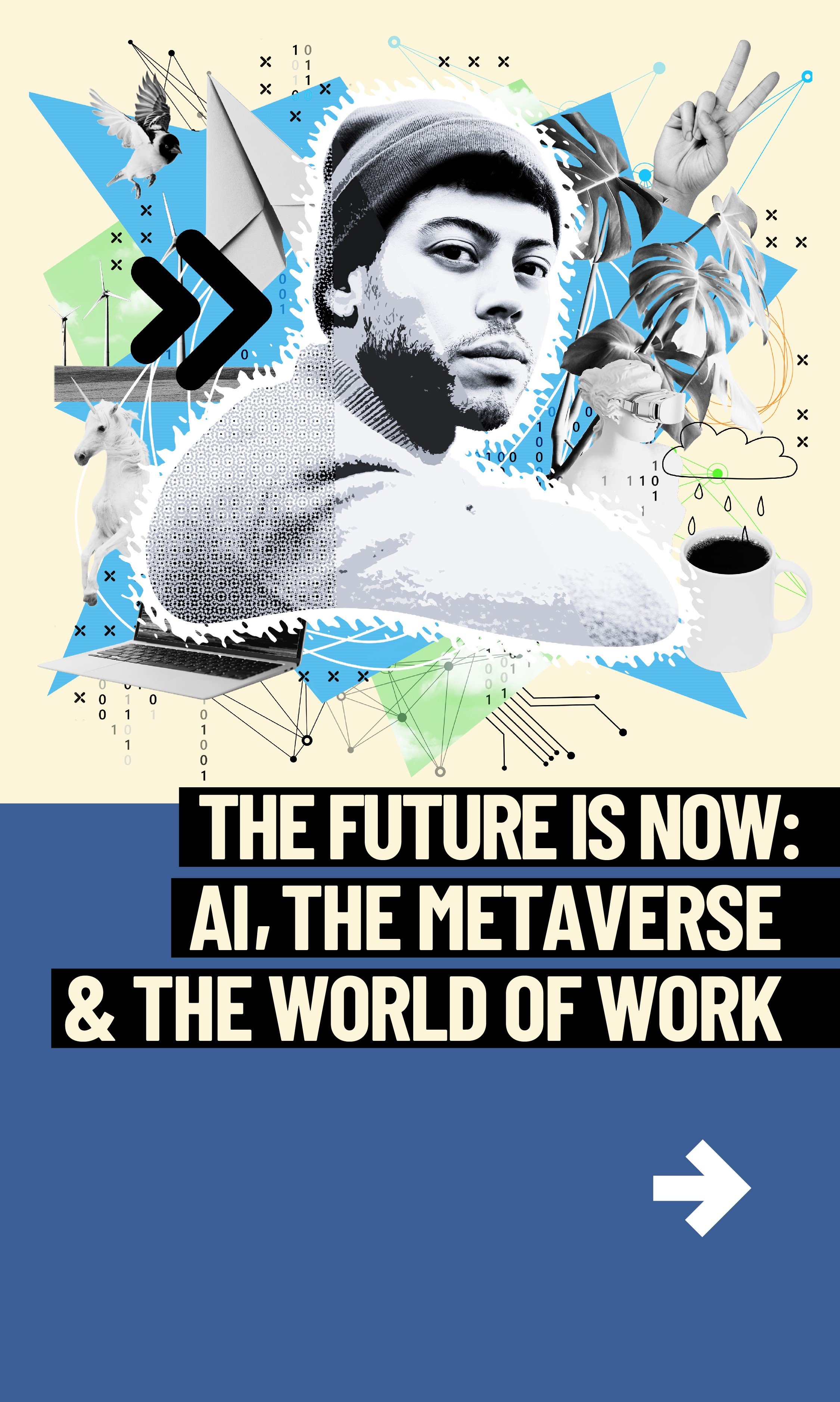 Areas of Expertise
Get the Perfect Match of Expertise and Network of Top Candidates
With dedicated teams in each specialised field of IT, we have the deep knowledge and extensive networks to find and create that perfect match between your business and high-quality candidates.
Human Centered Design

CRM, ERP & SAP

IT Executives

Project Services

Cyber Security, Governance, Risk & Compliance
Creative, People-Focused Problem Solving
Experis specialise in recruiting product designers that put the people they're designing for at the core. We recruit across all areas of Human Centred Design roles in industries such as Education, Technology, Utilities and Insurance.
Roles that our dedicated Human Centred Design team recruits for include but are not limited to:
UX/UI/CX Designers
Product Designers
UX Researches
Get the most out of business software
Experis specialise in hiring professionals that have the skills and expertise to get the most out of using SAP, CRM and ERP to help businesses maximise their efficiency and profitability.
We are able to provide and fill incredible job opportunities through our strong relationships with corporate and government bodies.
SAP Consultants
SAP Architects
SAP Team leaders
JDE/Oracle/Peoplesoft
Netsuite Architects
Netsuite Developers
Set The Pace
We recruit across all IT Sales & Executive jobs covering both technology vendor and consulting markets. We have a dedicated researcher to map competitors and mine our own large database of high-quality candidates to connect employers with the best suited IT executives.
The types of jobs we recruit for, include but are not limited to are:

Commercial
Chief Information Officer
General Manager – Information
Technology & others
Executives
Chief Security Officer and Security
Leaders
Customer Experience Leaders
Transformation Leaders
Digital Leaders

IT Industry
Country Managers and Managing
Directors
Chief Technology Officers and other
Technology Leaders
IT Sales Directors and Leaders
Senior Sales Executives
Account Directors
Drive Project Success
Experis have an unrivalled reputation in finding top Project Services talent who drive seamless, streamlined and successful project outcomes for businesses. We recruit across a variety of roles for retained search, contingent contract and permanent recruitment.
The type of jobs we recruit for include but are not limited to the following:


Project, Program & Portfolio Management
EPMO Management and Support
Business and Systems Analysis
Change Management
Change Analyst & Lead
Process Analyst & Lead
Business Improvement Analyst & Lead
Iteration Management/Scrum Master & Agile Coach
Instructional Design, Learning
Consultant & Training
Technical Writing
Delivery Lead
Transformation Consultant & Lead
QA Testing Analyst & Lead
Protect People & Businesses in the Evolving Digital World
Experis are specialists in recruiting professionals who are experts in protecting, securing and future-proofing businesses. We connect those looking to hire and job seekers for roles in cyber security, governance, risk management and compliance. Here's a snapshot of what we do.
Some of the industries we work in are:
Financial Services (particularly Insurance)
Healthcare
Professional Services
Defence
FMCG
FinTech and Neobanks
Telecommunications
Legal
Government
Education

Skills
We specialise in looking for people with the following skills:
Infrastructure Security
Application Security (DevSecOps and Secure Development)
Cloud Security
Endpoint Security
Data Security
Identity and Access Management (IAM and PAM)
Security Operations / SOC
Threat Intelligence
Threat Hunting
Incident Response
Operational Technology
SIEM Engineering
GRC (Governance, Risk Management, Compliance, Audit, CPS
234, ISO, ISM, IRAP, PCI DSS)
Penetration Testing (Blue team, Red Team, Purple Team)

Roles
The roles we help hire in include but are not limited to:
Chief Information Security Officer (CISO)
Chief Information Officer (CIO)
Chief Security Officer (CSO)
Chief Privacy Officer (CPO)
Governance Compliance & Risk (GRC) Manager
Cyber Security Manager/Director
Cyber Security Program/Project Manager
Security/Cloud Security Architect
Identity and Access Management (IAM and PAM) Specialist
Security Operations Centre (SOC)
Manager/Analyst
Digital Forensics Analyst
Threat Hunter
Penetration Tester (Pen-Tester) Blue, Red, Purple
Malware Analyst
Devops & Infrastructure

Digital Marketing

BI, Data & Analytics

Software Development, testing and QA
Foster Strong Communication & Close Collaboration
Our dedicated DevOps & Infrastructure team connect businesses looking to hire with high-quality professionals that can drive effective communication, improved visibility and real customer value.
The IT industry is constantly evolving, creating roles like DevOps & Infrastructure that were not in existence several years ago. That's why Experis have nurtured a team of specialist recruiters to find highly-skilled job seekers in this area across a range of industries, including government and financial services.

Roles
The type of jobs we recruit for include but are not limited to the following:
IT Operations Manager
Level 1,2 and 3 Helpdesk job
Desktop Support/Engineer/Analyst
Field Service Engineer/Analyst
Applications Support
Support Analyst
Systems Administrator
Systems Engineer
Network Administrator
Network Engineer
Active Directory Engineer
Solution Architect
Infrastructure Engineer/Manager
IT Manager
Cloud Engineer
Mobility Engineer/Architect
Storage Engineer/Architect Service
Delivery/Management/Operations Roles

Skills
Some of the skills we look for:
Windows Server, SQL Server, and other Windows core products
Linux distributions
Automation Skills
Cloud Platform Services: AWS, Azure
MYSQL, Oracle, MS SQL Server, VMware, and Hyper-V
Grow Lead Generation & Brand Awareness
The Experis team are experts at placing highly-skilled candidates in Digital Marketing and Martech roles to help businesses to expand their online presence and grow.
Experis's dedicated Digital Marketing recruiters work tirelessly to place the right Digital Marketing gurus with the right organisations.

Some of the roles we look for but are not limited to:
Product Owner
Product Manager
Head of Product
Digital Marketing Manager
Head of Marketing
Marketing Director
Chief Marketing Officer
Marketing Manager
Marketing Coordinator
CRM Manager
CRM Specialist
Marketing Automation
Uncover Insights for Better Business Decisions
At Experis we specialise in recruiting professionals who are experts in discovering the key insights that will help businesses make better decisions and grow. We pride ourselves on being able to fill challenging and niche roles across all areas of BI, Data and Analytics.
Experis's BI, Data and Analytics team have worked with employers across a number of industries, from Education, NFP, Government, to Financial Services, Insurance, Technology and Utilities. With this range of experience we are comfortable adjusting to any situation that might be thrown our way.
Some of the skills we can look for include: Business Objects, Cognos, Datastage, Informatica, Microstrategy, OBIEE, Qlikview, SAS, SSRS/SSAS/SSIS, Tableau, Teradata, TM1, Wherescape Red, AWS, GCP, Azure, Snowflake, Redshift, PowerBI.
The type of jobs we recruit for include but are not limited to the following:
Business Intelligence and Reporting
Head of Data & BI roles
BI Developer, Analyst, Consultant
PowerBI Developer, Specialist
Tableau Developer, Specialist
Reporting/Insights Analyst
Data Consultant
Data Management
Data Engineer
Data Architect
Data Governance
Data Steward
Database Administrator
Technical & Data Lead roles
Data Modeller
ETL Developer

Advanced Analytics
Data/Big Data Developer, Analyst
Data Scientist
Data Engineer
Machine Learning Specialist

Related Data Roles
Technical/ Data Business Analyst
Systems, HR & People Analyst
SAS Developer/ Analyst
Quantitative Analyst
Actuaries
The Masterminds Behind Successful Software
Experis are specialists in finding and recruiting the best software developers, testers and QA professionals to engage and ensure successful delivery in each phase of the software development life-cycle.
Our dedicated team are confident and knowledgeable to analyse candidate skills and assess suitability for the role, whether permanent or contract, to connect the best job seekers with businesses looking to hire.
Helping businesses succeed in industries such as FinTech, Banking, Insurance, Telematics, Education, Technology, Utilities, Consultancy, Gaming, eCommerce, Online Payments, Superannuation (just to name a few), we look for:
Software Developers
Front-End or Back-End Engineers
Mobile iOS/Android Developers
Lead Developers
Quality Assurance (QA) Testers
Chief Technology Officers
Solution Architects
Application Architects
These are professionals who are skilled in JavaScript, TypeScript, CSS, HTML, Vue, Angular, Ruby, Python, Node, AWS, GCP, Azure, .NET, API, React,.NET, API.d
TESTIMONIALS
What our clients say
"Whenever I have a recruitment question or requirement, Experis is on top of my list. Experis never fails to provide a fast and accurate solution. You can absolutely rely on them to make your life easier and your team better."
"Experis team is the rare set of recruiters that is able to meld business fit with technical fit to a tee. The key to their success is their ability to truly listen to the requirements and provide us with the right fit candidate based on this active listening. It is this skill that ensures them a continual value add to our business."
"Always professional, responsive, reliable to a fault, and personally interested, the team at Experis has made recruiting a no-brainer for us. Recruiting takes up a huge chunk of time and the value in having a business partner that just gets your org culture and quality expectations can't be overstated."
Strong and connected.
Manpower®

is part of the ManpowerGroup

®
ManpowerGroup®, the leading global workforce solutions company, helps organizations transform in a fast-changing world of work by sourcing, assessing, developing and managing the talent that enables them to win.
We develop innovative solutions for hundreds of thousands of organizations every year, providing them with skilled talent while finding meaningful, sustainable employment for millions of people across a wide range of industries and skills. Our expert family of brands – Manpower, Experis and Talent Solutions – creates substantial value for candidates and clients across more than 75 countries and territories and has done so for over 70 years.
---
25000​


Permanent employees
---
2200​


Offices around the world
---
2 Million +​


Placed into work
---
600,000​


Associates on assignment globally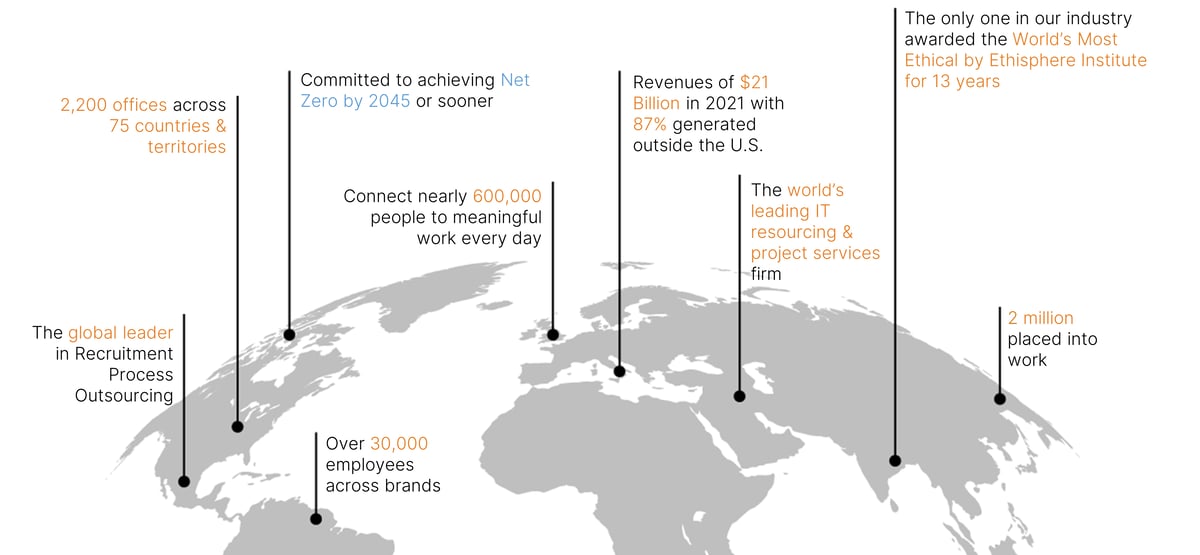 Get notified on new marketing insights
Be the first to receive workforce industry insights from ManpowerGroup®.