ManpowerGroup Employment Outlook Q4 2021 Survey
For employers and employees to get the forward-looking perspective on hiring in your area.
The survey for the fourth quarter of 2021 was conducted by interviewing a representative sample of 1,515 employers in Australia. All survey participants were asked: "How do you anticipate total employment at your location to change in the three months to the end of December 2021 as compared to the current quarter?"

Interviewing was carried out during the exceptional circumstances of the COVID-19 outbreak where survey findings are likely to reflect the impact of the global health emergency. Additional questions were also asked to capture the impact of COVID-19. These findings are available in the full report for the quarter.
Australia's Employment Outlook For Oct - Dec 2021
Australia is forecast to continue an upbeat hiring pace. From October to December, Australian employers are looking optimistic, reporting a seasonally adjusted Net Employment Outlook of +12%.
While hiring plans are 4 percentage points weaker in comparison with the previous quarter (July to September 2021), employers report an improvement of 10 percentage points when compared with this time one year ago (October to December 2020).

Upbeat Labour Market Expected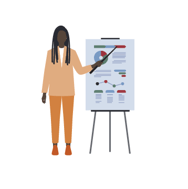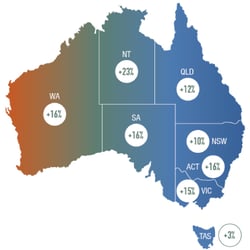 For All Regions
While hiring plans weaken in seven regions quarter-over-quarter, employers report stronger hiring prospects in all regions compared to this time last year. Northern Territory employers anticipate the strongest labor market with an Outlook of +23% which is the strongest reported in 10 years.
For All Industry Sectors
Workforce gains are again expected in all seven of Australia's industry sectors in the coming quarter. Although Outlooks weaken across all industries compared with the previous quarter, hiring prospects are stronger in all industries when compared to the same time last year. For October to December the strongest labor markets are forecast for Mining & Construction, Services and Transportation & Utilities sectors all with Outlooks of +16%.
For All Organisation Sizes
Job gains are expected in all four organization size categories during 4Q 2021. Large employers (+22%) expect the strongest hiring climate, while the weakest Outlook of +7% is reported by Micro firms.
The Talent Shortage Shows No Signs Of Slowing Down
63% of Australian employers cannot find the skills that they need, which is just below the global figure of 69%. Globally the talent shortage is at a 15-year-high and now running for 2 consecutive quarters. In order to both attract and retain talent, Australian employers are looking beyond financial offerings to be an employer of choice:

People & Leadership Are The Training Focus
When surveyed on the type of training Australian employees are focused on in the next 6 months, results indicated employers plan to invest in their people. 59% will focus on manager/ leader development training and 57% on diversity, equity, inclusion & belonging training. While standard compulsory compliance training (69%) remained number one, more than half surveyed plan to focus on upskilling soft skills (53%) and technical skills (50%) with short courses of 6 weeks or less to aid with bridging the talent shortage gap.