ManpowerGroup Employment Outlook Survey
For employers and employees to get the forward-looking perspective on hiring in your area.
The survey for the third quarter of 2021 was conducted by interviewing a representative sample of 1,531 employers in Australia. All survey participants were asked: "How do you anticipate total employment at your location to change in the three months to the end of September 2021 as compared to the current quarter?"
Interviewing was carried out during the exceptional circumstances of the COVID-19 outbreak where survey findings are likely to reflect the impact of the global health emergency. Additional questions were also asked to capture the impact of COVID-19. These findings are available in this quarter's infographic.
Australia's Employment Outlook for July - Sep 2021
Australia is forecast to continue its upbeat hiring pace. From July to September, Australian employers are looking optimistic, reporting a seasonally adjusted Net Employment Outlook of +17% for the second consecutive quarter.

Of the 43 countries surveyed, Australia reported one of the strongest hiring intentions following the United States and Taiwan, and is also the most improved with hiring prospects 30 percentage points stronger when compared with this time one year ago, when COVID-19 first had an impact on hiring sentiment. Find out more.
Upbeat Labour Market Expected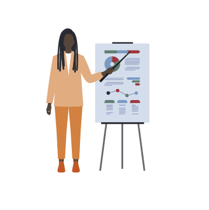 For All Regions
Payroll is expected to increase in all regions of Australia. Job gains have improved in five regions when compared with the previous quarter while weakening in one. In a comparison with the third quarter of 2020, Outlooks strengthen in all eight regions.
The strongest regional Outlook of +29% is reported in Australian Capital Territory, which is its strongest forecast in 10 years.
For All Industry Sectors
Employers in all seven industry sectors expect to grow staffing levels again during the coming quarter, and Outlooks strengthen in all seven when compared with both Q2 2021 and the same period last year.
The strongest hiring activity is anticipated by Finance, Insurance & Real Estate sector (+28%) and Transportation & Utilities sector (+28%) employers.
For All Organisation Sizes
Job seekers in all four organisation size categories can also expect hiring opportunities in the next three months.
Large firms (+28%) expect the strongest labour market, while the most cautious Outlook of +6% is reported by Micro employers.
Australia's Talent Shortage
Despite strong hiring intentions, additional findings from ManpowerGroup's latest Talent Shortage Survey conducted in January 2021 highlights a global shortage in talent at a 15-year high as hard and soft skills are more difficult to find than ever before. Locally 67% of Australian employers alone report difficulty filling jobs, one of the greatest increases since 2018 compared to other countries, where only 34% of Australian employers were having trouble in 2018.
In these unpredictable times, one thing is certain – this crisis should be a catalyst for a new future of work that is more flexible, more diverse, and more wellbeing-oriented than we could ever have imagined. Find out more.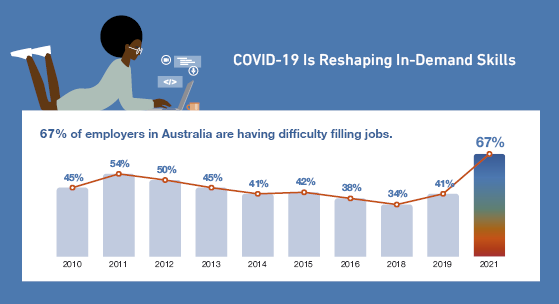 The Impact of COVID-19
It seems that for remote-possible roles, employers are still preparing for on-site returns due to concerns around productivity. Organisations expect 76% of employees to be back in the workplace all of the time - up from 62% when we asked this last quarter.